From Zombies to Unicorns: The Unusual and Crazy Themes In Online Slots
1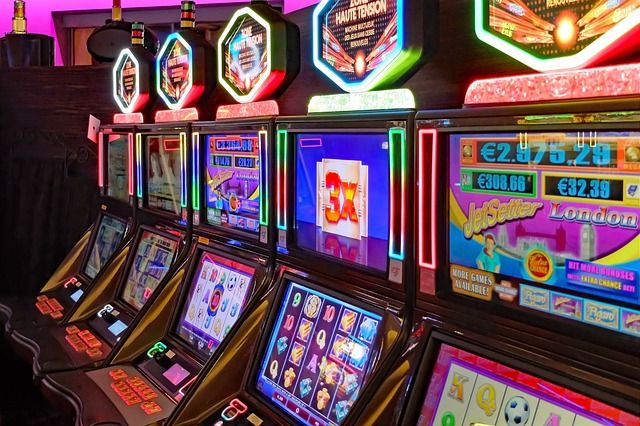 If you thought that slot machines were all about cherries, bars, and lucky sevens, think again! In online slots, developers have taken creativity to new heights by introducing themes ranging from the bizarre to the downright crazy.
From zombies to unicorns to
games with a star theme
, these unusual themes have transformed the world of slot gaming into a wild and unpredictable adventure. In this blog post, we're going to explore some of the most eccentric and entertaining themes you can find in online slots.
Zombie Apocalypse Slots
Zombies have been
a popular theme in movies
, TV shows, and video games for years, so it's no surprise that they've made their way into the world of online slots. Zombie-themed slots feature creepy graphics, eerie sound effects, and hordes of flesh-eating zombies. Players are often tasked with surviving the zombie apocalypse while trying to win big.
One such slot is "Lost Vegas" by Microgaming, where you can play as either a survivor or a zombie, each with its own set of special features. It's a thrilling experience that combines the excitement of slot gaming with the tension of surviving a zombie outbreak.
Unicorn Fantasies
On the opposite end of the spectrum, you have slots that transport you to a world of magic and fantasy, where unicorns reign supreme. These slots are a delightful escape from the ordinary, with dreamy graphics, enchanted forests, and sparkling treasures. Unicorn-themed slots often feature free spins, wild unicorns, and other mystical creatures to enhance your gameplay.
One notable unicorn-themed slot is "Enchanted Unicorn" by IGT. It's a classic slot game with a whimsical twist, offering players the chance to enter an enchanted forest searching for the elusive unicorn and its treasures.
Underwater Adventures
Ever dreamt of exploring the depths of the ocean without getting wet? Online slots can make that dream come true. Underwater-themed slots plunge you into the mesmerizing world of marine life, complete with colorful coral reefs, friendly dolphins, and hidden treasures. These slots often feature exciting bonus rounds that involve sunken ships, buried chests, and underwater adventures.
"Great Blue" by Playtech is a popular underwater-themed slot that lets you dive deep into the ocean for big wins. Its stunning graphics and soothing underwater sounds make it a perfect choice for those looking to escape to the deep blue sea.
Foodie Frenzy
For those who love all things culinary, food-themed slots offer a delectable gaming experience. These slots feature mouthwatering symbols like burgers, pizza, sushi, and desserts, turning your gaming session into a virtual feast. Bonus rounds often involve cooking challenges, where you can whip up dishes for big rewards.
One tasty example is "So Much Sushi" by Microgaming, where you can savor the flavors of Japan while spinning the reels. The game's unique bonus feature allows you to choose how you'd like to slice and serve your sushi rolls, adding an extra layer of interactivity to your gaming experience.
Alien Encounters
If you've ever wondered what it would be like to make contact with extraterrestrial life, alien-themed slots can take you on a cosmic adventure. These slots feature futuristic graphics, otherworldly creatures, and sci-fi sound effects. Bonus rounds often involve close encounters with aliens and the opportunity to explore distant planets.
"Alien Robots" by NetEnt is an exciting alien-themed slot that combines retro robots with intergalactic exploration. With its expanding wilds and free spins, it offers a thrilling journey through the cosmos.
Wild West Wagers
Step into the boots of a cowboy or cowgirl and embark on a Wild West adventure in these slots. With dusty saloons, rugged outlaws, and sheriffs on the hunt, these slots capture the spirit of the Old West. You can expect to encounter duels, wanted posters, and plenty of opportunities to win big.
"Dead or Alive" by NetEnt is a classic Wild West-themed slot that transports you to the lawless frontier. With its sticky wilds and high volatility, it's a game that can deliver some serious thrills.
Time Travel Tumults
Travel through time and explore different eras in history with time travel-themed slots. These slots take you on a journey through the ages, from ancient civilizations to the distant future. You can encounter historical figures, iconic landmarks, and time machines that trigger exciting bonus rounds.
"Time Machine" by Ash Gaming is a time travel-themed slot that lets you hop through different epochs, collecting historical artifacts. It's a fascinating adventure that combines history with the thrill of slot gaming.
Conclusion
Online slots have come a long way from the classic fruit machines of yesteryear. Today, they offer an array of themes that cater to every interest and imagination.
Whether you want to battle zombies, frolic with unicorns, or embark on a culinary adventure, there's a slot theme out there. So, the next time you spin the reels, remember that you're not just playing for the chance to win; you're also embarking on a wild and wacky journey through the world of online slots.