Colorized Historical Photos (28 pics)
"An Italian officer descending the Mombrone during his last exercise, 1906. The Italian Cavalry School, created in 1823, was responsible for the training of all armed forces cavalry staff. Every officer of the Cavalry School in Pinerolo (near the Alps) was required to go down "the descent of Mombrone" before they left the school. The 6 meters drop from the window of a ruined castle about three miles from Pinerolo was considered a test of nerve. Similar training exercises were taken at Fort Crook, Nebraska."



1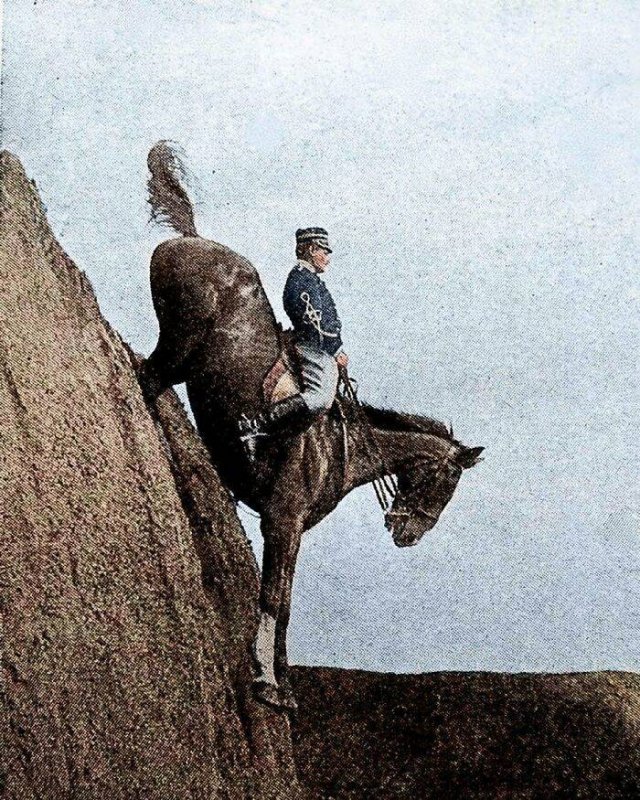 "A few of the thousands of wedding rings the Nazis removed from their victims to salvage the gold. U.S. troops found rings, watches, precious stones, eyeglasses, and gold fillings, near the Buchenwald concentration camp, Germany, May 5, 1945. I'm preparing a series on the Holocaust, where I'll try to represent not only the Jew extermination, but the repression to minorities and the work of the Einsatzgruppen as well."
2
"75 years of Casablanca. Today I woke up in a friend's house, without having slept too much. Still with half-closed eyes, I opened my phone and the news popped up: today it marks the 75 anniversary of Casablanca. I don't know what the other passengers might have thought of me, colorizing frenetically in the train back home, while, of course, trying to not fall dead due to lack of sleep. Here it is, my last homage to one of the best films ever made."
3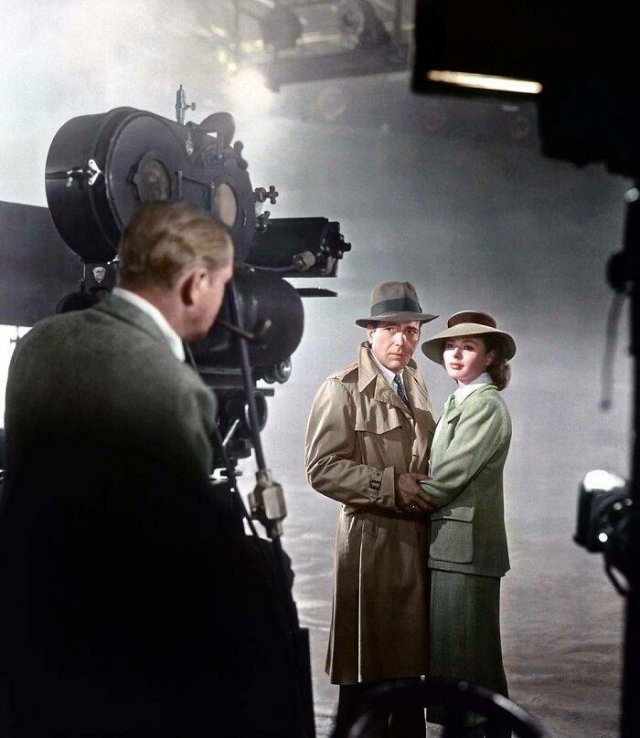 "Wojtek the Bear with a fellow Polish soldier, Iran, 1942. Wojtek (1942-1963) was a brown bear purchase at a railroad station in by Polish II Corps soldiers who had been evacuated from the Soviet Union. He was eventually enlisted officially as a soldier with the rank of private, and was subsequently promoted to corporal, fighting in several battles in various fronts. After the war, mustered out of the Polish Army, he was billeted, and lived out the rest of his life, at the Edinburgh Zoo, where he died in 1963, aged 21."
4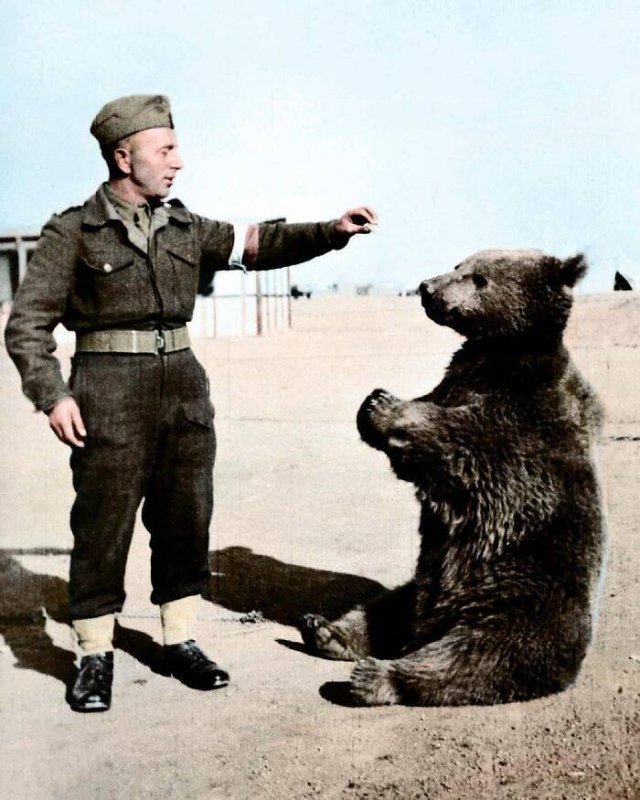 "A picture I did two years ago. Men (and a dog) of the Seaforth Highlanders rest in a trench, near La Gorgue, France, August 1915. Note how the bayonets are fixed, possibly pointing to the staging of the picture, as in 95% of the occasions. Swipe to see "8 Section panorama: Taken from: - La Gorgue. Direction: - Auber, Neuve Chapelle."."
5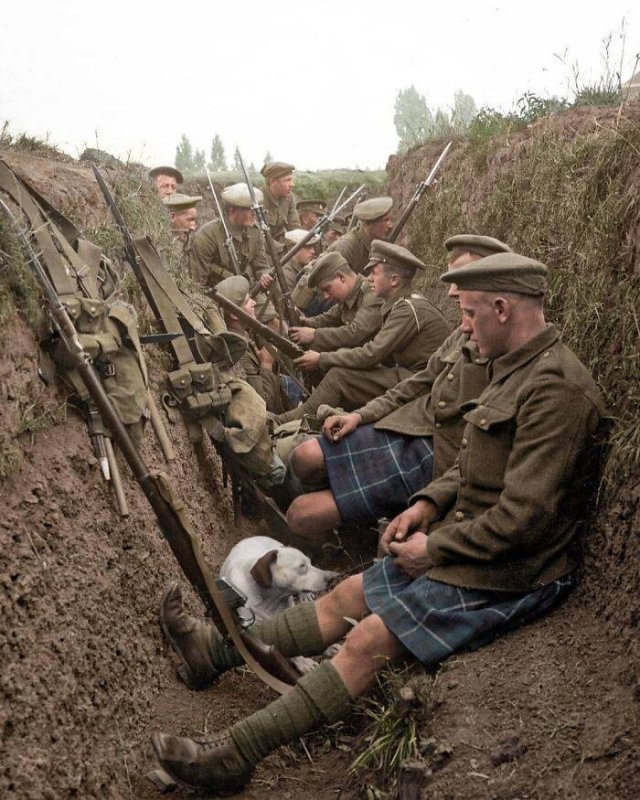 "US soldier from the 11th Airborne Division shares a bit of chocolate with a local girl, 1946, Japan. One of the main reasons for using chocolate in armies is the high energy content it has and how easy to carry it is. It has a light weight and long durability and was usually carried in simple pockets by any kind of soldiers. During World War Two, the best-known chocolate was the Scho-Ka-Kola, destined to German Luftwaffe pilots in order to obtain fast and to keep their minds active during the combat. On the other hand, the American Army started serving Hershey's chocolate to their troops. The result was the so-called "Logan Bars". This same company created in the 90s the "Desert Bar" designed for the operations in Middle East "Shield and Desert Storm", although the soldiers' opinion of the soldiers on its flavor did not contribute to its later commercialization. This time it was the last one that the American Army used chocolate as energetic food, since in our days it is being replaced by synthetic food which, although it will be of help, will surely not give so much happiness to the troops than a good ol' piece of tasty chocolate. By the way, you can still buy Scho-Ka-Kola and Hershey's, which is great. 1946, John Florea."
6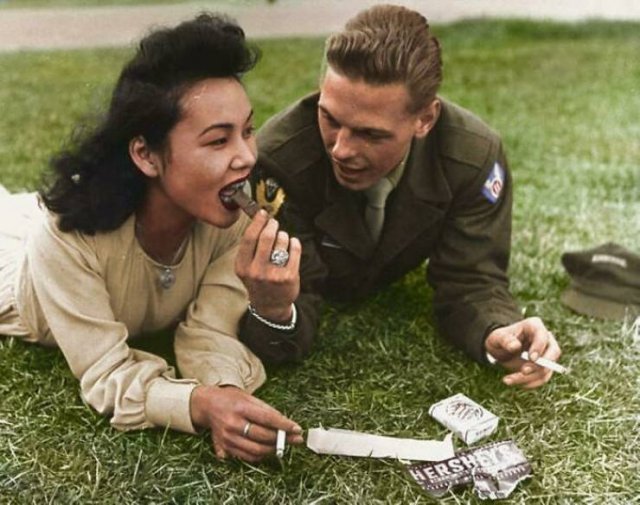 "German Mountain troop, awarded with the Infantry Assault Badge during a celebration, c. Summer 1943. Since it's nearly impossible to make a serious post about this picture, I leave you with a joke my grandfather used to tell me.
The Führer was once being driven in his amazing Mercedes by the German countryside, to a small location in Prussia to give a war meeting. Halfway there, some stones from the road he was going through, which was in very bad condition, punctured a wheel and the Mercedes was stamped on a fence, killing a pig that was eating nearby. Angry and hysterical, the Führer shouted to his driver to go to the nearest farm to seek help. The driver, fearful, ran to the farm where he had run over the pig. Five hours later, he appeared in front of the Führer with a bottle in his hand. The dictator, extremely angry at the wait, and seeing that he did not come with help, asked him what he had been doing. "You will see my Führer," said the driver clearly drunk, "I went to the farm and told the villagers that I was carrying Adolf Hitler in my car when, on the road, I ended up killing the pig. And then, they started to congratulate me, and offered me all the bottles of champagne they had.""
7
"An Italian Alpino mountain specialist ziplines from one peak to another, c. 1917. Although ziplines might be seen as an indicative of amusement or military operations, they have been used as easy and cheap transportation method during centuries, specially on mountainous regions, such as China's Yunnan, where even ziplines were used instead of bridges. In Australia, for instance, they were used for delivering food, cigarettes or tools without the need of crossing valleys and rivers, something adapted in war times."
8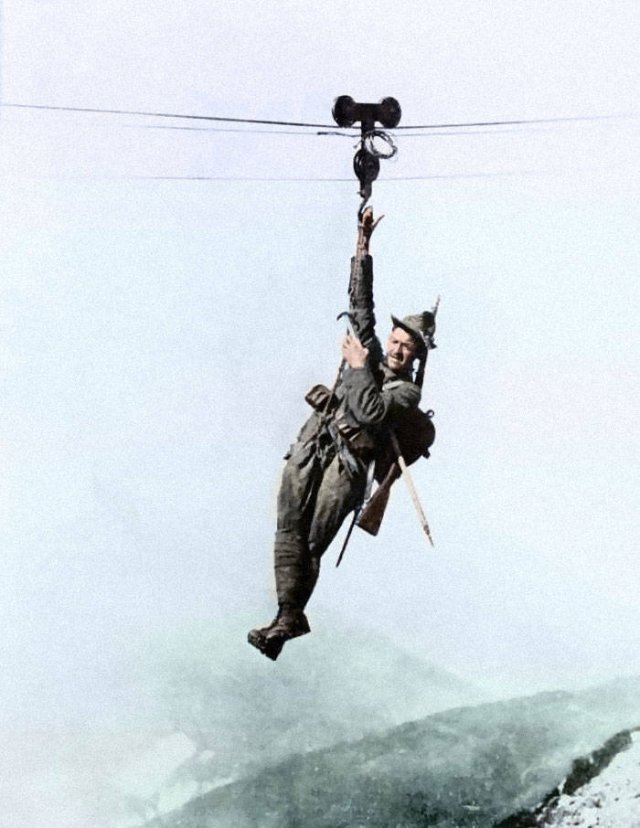 "Happy Australia Day! An soldier at an advanced Allied base, with his pet kangaroo, location unknown, most likely NQ. Pets were something relatively new in WWII, but amazingly common. Although since the beginning of war animals had been used for different proposes it wasn't until modern times when animals where used as company and not as means of military ends. Several battalions, divisions or armies had their own pets; however, platoons used to find lost animals because of the war itself and took them around. That's why most of the pets we can find in WWII photos are usually attached to an only individual. Frequently, soldiers came across with those animals, which could be dogs, cats, bears, kangaroos, and even cassowaries -check my very first post-, and trained them, which eventually led to the creation of capable animals that would help in combat, more than simply pets. 10/09/1942, John Earl McNeil"
9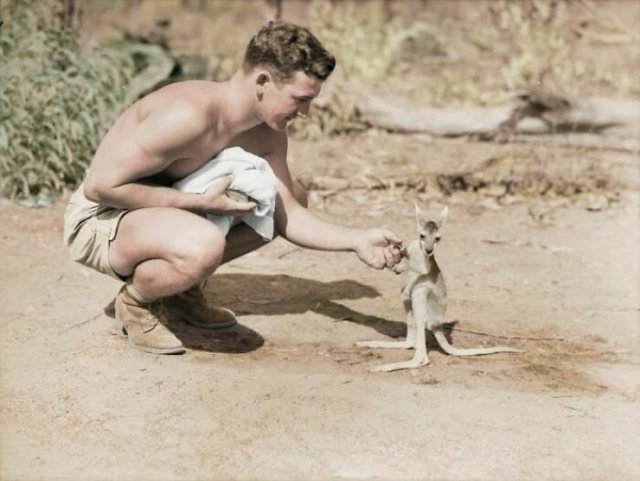 "Today marks the 75th Anniversary of the Bombing of Dresden. Here pictured is the destruction of the city as seen from the Rathaus, or town hall, months after the bombing. The bombing of Dresden took place between 13 and 15 February 1945, when 1249 British/American heavy bombers directly attacked the city of Dresden, the capital of the German state of Saxony, dropping more than 3,900 tons of high-explosive bombs and incendiary devices on the own city, destroying 6.5 km² of the city's cultural center. Up to 25,000 people were killed, most of them civilians, and leaving hundreds without roof. The official version pointed out to a "strategic target" referring to 110 in the area. Half of the attacks occurred directly to the city center, dropping a total tonnage of 2659.3, the biggest in the whole bombing, and without any rational explanation. Only one raid targeted industrial areas, and three a railroad. Moreover, a considerable part of the actual military and industrial terrain was never bombed, instead a great part of the Dresden cultural landmark with little or none strategic significance was transferred into ashes."
10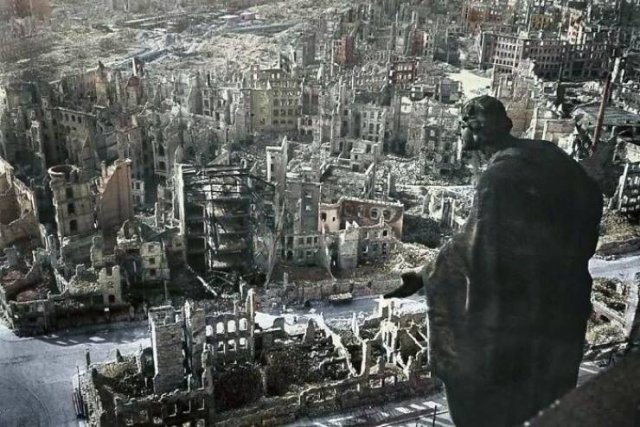 "An Austrian lance corporal with a thousand-yard stare. I've talked with you before about the thousand-yard stares. Do you know where does the expression come from? The phrase was popularized after Life magazine published the painting "Marines Call It That 2,000 Yard Stare" by World War II artist and correspondent Tom Lea. The painting depicts a Marine during the Battle of Peleliu, from whom Lea said: "He left the States 31 months ago. He was wounded in his first campaign. He has had tropical diseases. He half-sleeps at night and gouges Japs out of holes all day. Two-thirds of his company has been killed or wounded. He will return to attack this morning. How much can a human being endure?" 1918."
11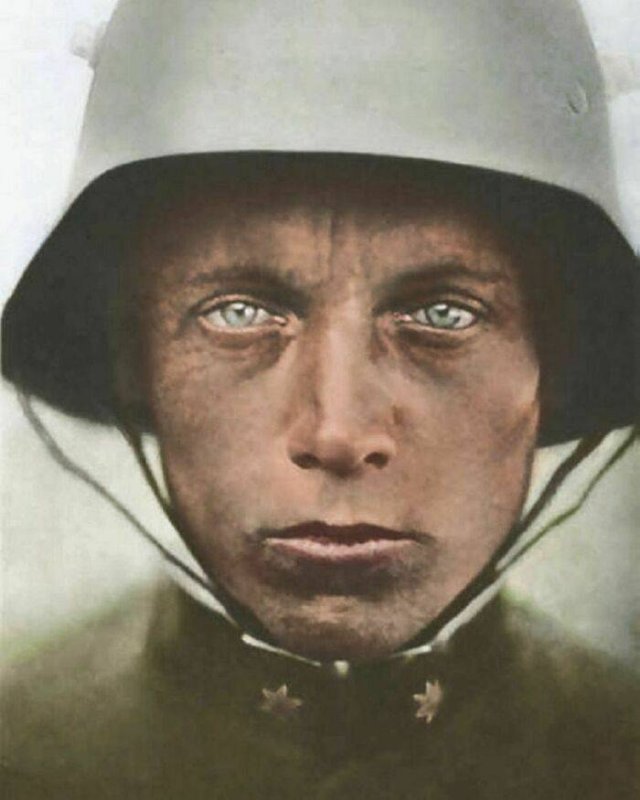 "An original color picture from World War II. While most pictures taken both by press and propaganda offices, and, of course, soldiers, were in black and white, several journalists or servants were giving new color cameras. Innovations such as Kodachrome (1935) and Kodacolor (1942/1958) brought never-seen-before results to photography and nowadays are a faithful guide to colorizers."
12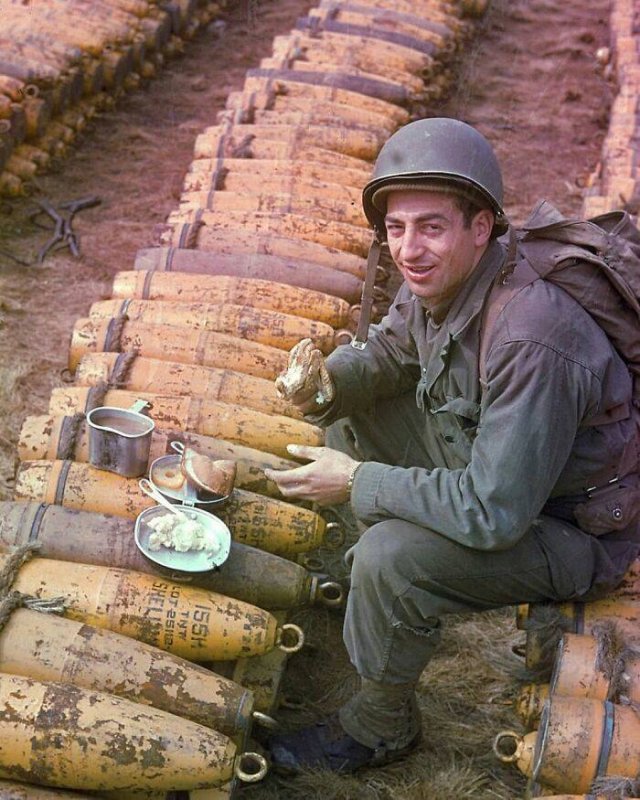 "Two female Russian snipers shooting from a trench somewhere in the Eastern Front, 1943. Sniper's baits were common in the Second World War, and were supposedly born during World War One, with even whole mannequins portraying infantry soldiers. Here depicted, a helmet bait, that would trigger the enemy soldier to shoot from the other trench and therefore to be within range of the allied sniper."
13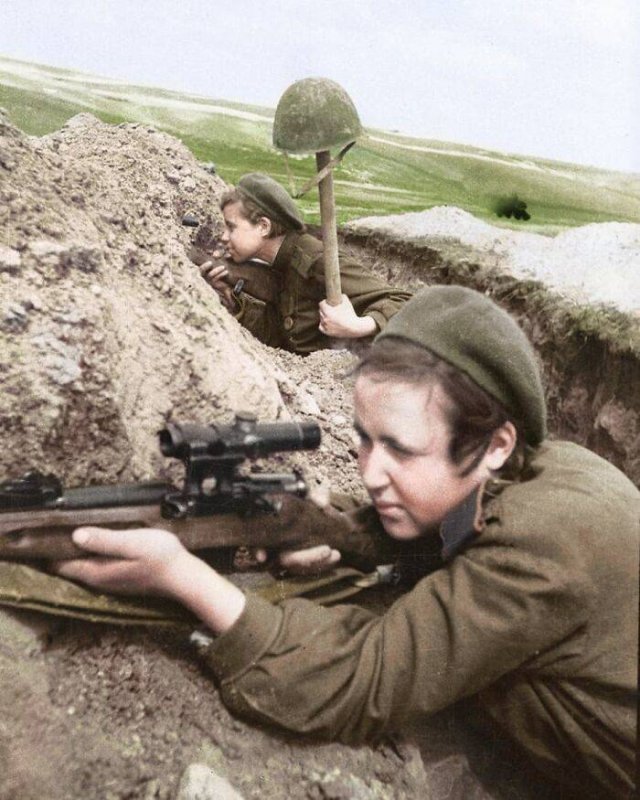 "I've been waiting more than a week to make this public. A month ago, we published a monographic book about colorization on Germany and France in WWI. The books illustrate the war in the Western Front with detailed attention in the captions of more than 80 pictures in full color colorized by me. It is named 'German & French Armies in the Great War' and has been published by Soldiershop."
14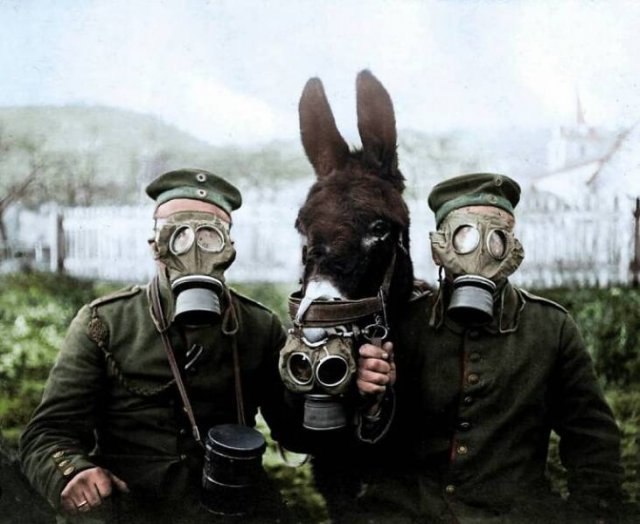 "A sign erected by a man form Dog Company during the Korean War, 25th March 1952, Korea. Maybe taken after the Battle of Maehwa-San, or during the Fourth Battle of Seoul, this picture is just one of many similar that spread during WWI, WWII, the Korean War, and the Vietnam War. This is my fastest colorization, 12 minutes. It's not a good colorization, but I wanted to test new techniques with this one, to make it look like an 80s photo."
15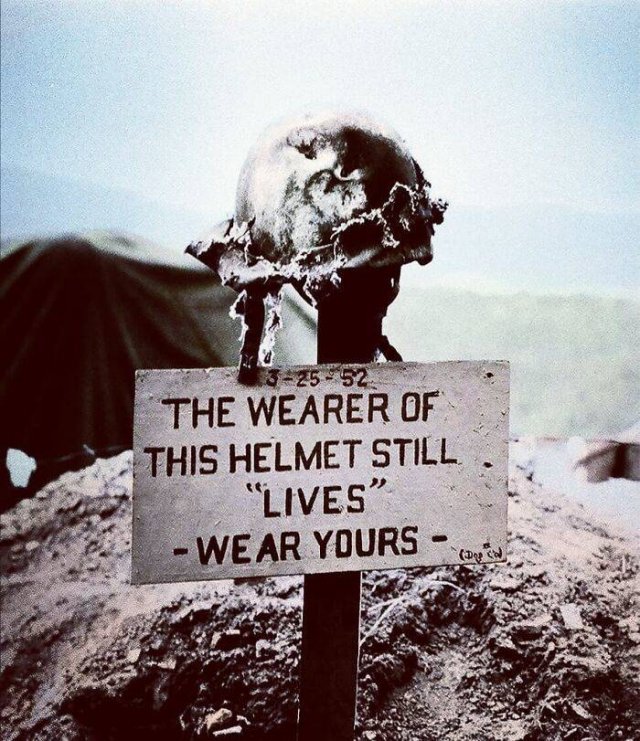 "U.S. soldier wearing a Brewster Body Shield, 1917. The Brewster Body Shield, also and more accurately known as Brewster Body Armor, was the first American body armor to really be useful developed by and for the United States Army in World War I. Essentially, it consisted of a breastplate with an attached headpiece, both able to stop machine gun bullets at an average speed of 820 m/s. The main problems were its heaviness, which was nearly 28 kg. and its discomfort for soldiers. An adapted armor of 5 kg was later created, which fit close to the body, and was considered more comfortable."
16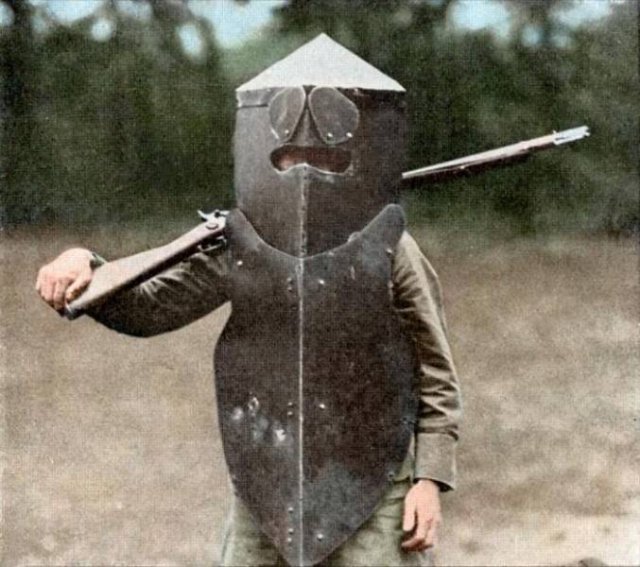 "My favorite colorization I've ever done, and I must thank ww2_forgotten_history for sending it to me. It depicts a French Resistance member during the Liberation of Paris, 23th August 1944. We have been searching the actual location trough Facebook, through our beloved WW2 Colorized Photos page, where it was featured. Lots of people helped us to try to solve that mystery, but we still couldn't find it."
17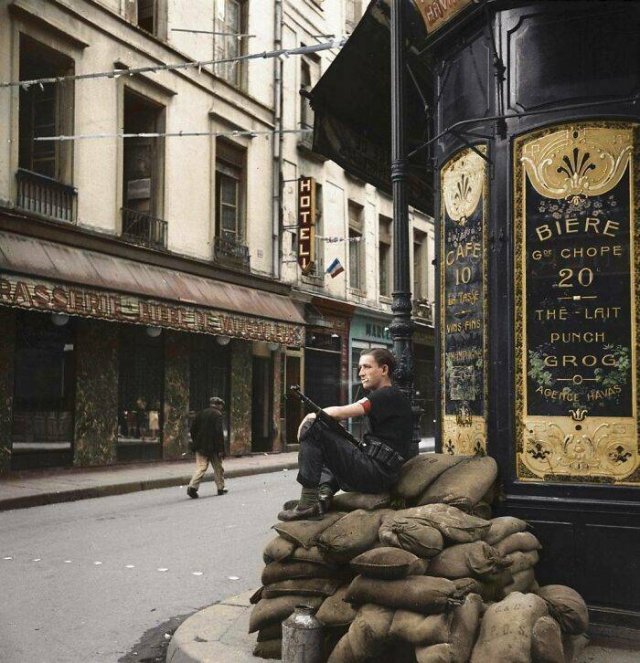 "Pfc Joseph E. Day (1918-2009), in underpants, holds a puppy named "Invasion" in a German helmet, Le Dezert, France, 1944. Concerning underwear, it was largely an invention of the 1930s. On 1935, an engineer named Arthur Kneibler, designed the world's first briefs in Chicago. During World War II, elastic waistbands and metal snaps gave way once again to button fasteners due to rubber and metal shortages. Undergarments were harder to find as well, since soldiers abroad had priority to obtain them. By the end of the war, Jockey and Hanes remained the industry leaders in the US, but Cluett, Peabody and Company made a name for itself when it introduced a preshrinking process called "Sanforization", invented by Sanford Cluett in 1933, which came to be licensed by most major manufacturers."
18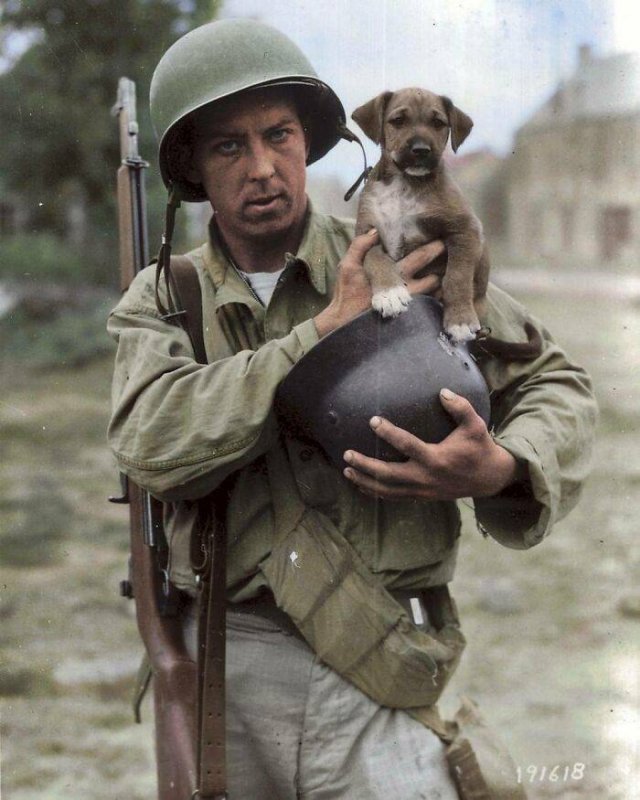 "Captain D. Michelson with Tim the tortoise, the pet of the Australian 2/2nd Battalion, 16th Brigade, 6th Division, Julis, Palestine, 28 March 1930. So I was curious about Captain Michelson, but couldn't find anything about his service in WWII. The Australian War Memorial didn't through any clues, until I searched just the surname and, hidden in a group picture, I found his complete name: David Enoch Michelson, SN - NX320, was born in Sydney (the 2/2nd recruitment area was NSW) on April 19, 1910. Enlisting in Denistone on December 27, 1939 was discharged six years later, on October 9, 1945. You can find several recordings and interviews of him in the Australian War Memorial website."
19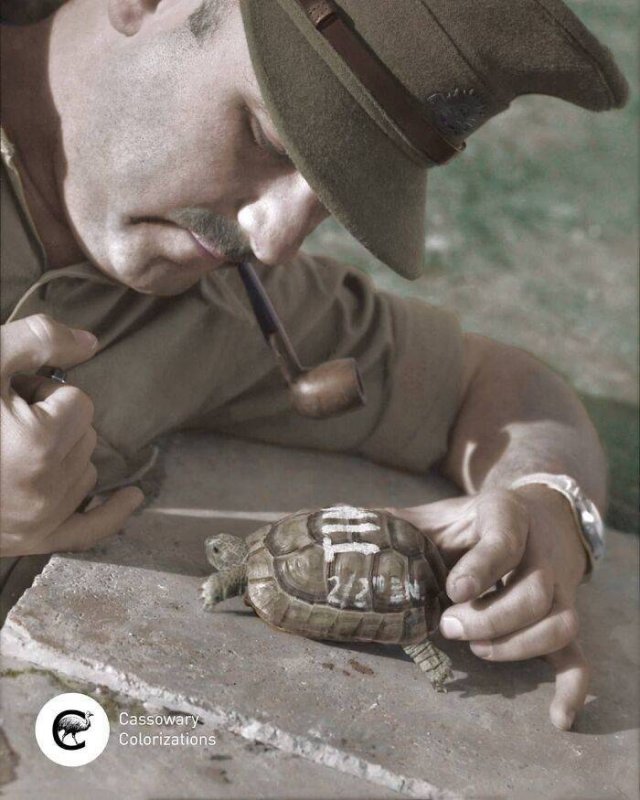 "Two soldiers comfort each other under the strain of combat in Pleiku, South Vietnam, 26 May 1967. Pleiku was strategically important during the Vietnam War because it was the primary terminus of the military supply logistics corridor extending westwards along Highway 19 from the coastal population centre and port facilities of Qui Nhơn. Additionally, its central location on the plateau, between Kon Tum in the north, Buôn Ma Thuột to the south, and the North Vietnamese Army's base areas inside Cambodia to the west made Pleiku the main center of defense of the entire highland region of the Republic of Vietnam. This was obvious to both sides; the United States established an armed presence very early in the conflict at Camp Holloway, and the Việt Cộng attack on this base in early 1965 was one of the key escalating events that brought U.S. troops into the conflict. On 15 June 1972, Cathay Pacific Flight 700Z, operating a Convair 880 from Bangkok to Hong Kong, disintegrated and crashed while the aircraft was flying at 8,800 m. over Pleiku, Vietnam after a bomb exploded in a suitcase placed under a seat in the cabin, killing all 81 people on board."
20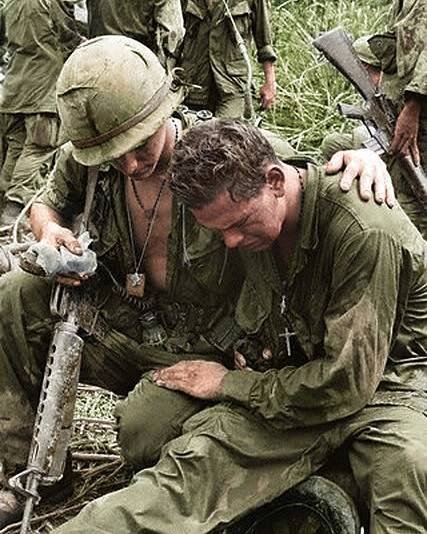 "A Norwegian child being carried to an ambulance from HMS Onslaught at Gourock, Scotland, 1 March 1945. She was one of over 500 civilians recued by the Royal Navy after hiding from the Germans on Sørøya island. 525 Norwegians, who had been hiding from German patrols in caves on the snow covered mountains of Sørøya island, Norway for three months, were rescued by four British destroyers of the Home Fleet who raced in broad daylight, 60 miles behind enemy lines and took them safely to a Gourock."
21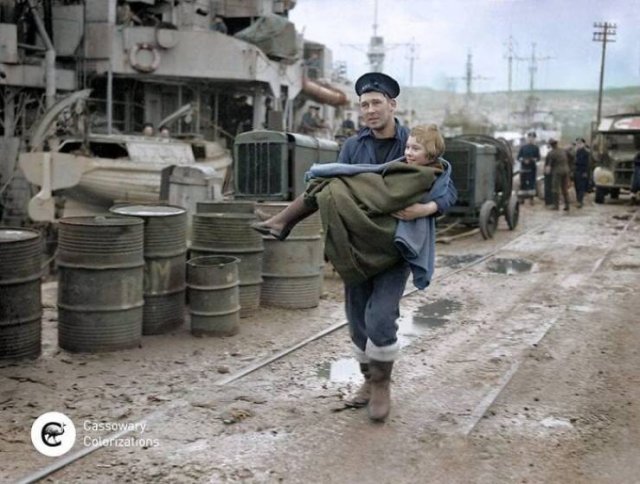 "Sergeant Joseph Levin of the American Army Chemical Warfare Service testing a gas mask with his horse "Buddy", Governor's Island, New York, 1928. This picture has long been credited as a Frenchman during the Battle of Verdun (something incredibly thoughtless because of many indications). More ironically, and what hurts me the most, is that Getty Images credits it as being an early 1930s picture and then, in another shot of the same man and day, as a 1917 picture. After I took some research, I discovered a similar photograph taken the same day in the Popular Science issue of October 1928. It is sad that a corporation as Getty, which charges colossal fees to its photographs doesn't even bother to make a five-minutes research. I've transcribed you the original article: "ARMY DEMONSTRATES A NEW GAS MASK FOR WAR HORSES / Buddy, an Army horse stationed at Governor's Island, New York, is shown wearing the latest mask designed to protect war horses and mules during gas attacks. The bag of the mask fits tightly over the nostrils of the animal and is held in place by straps buckled over its head. Buddy demonstrated the effectiveness of the new protection recently when he carried Sergeant Joseph Levin of the Chemical Warfare Service, through a deadly screen of poison gas without suffering ill effects. Levin is seen wearing the newest equipment developed by Army experts to protect soldiers." The American Chemical Corps was and still is one of the many branches in which the United States Army is divided. It was created the 28 June 1918, few months before the First World War ended, named the U.S. Chemical Warfare Service (CWS). After the Second World War, its name was changed to the current Chemical Corps. For most of its history, the Chemical Corps was tasked with delivering chemical weapons rather than defending against them."
22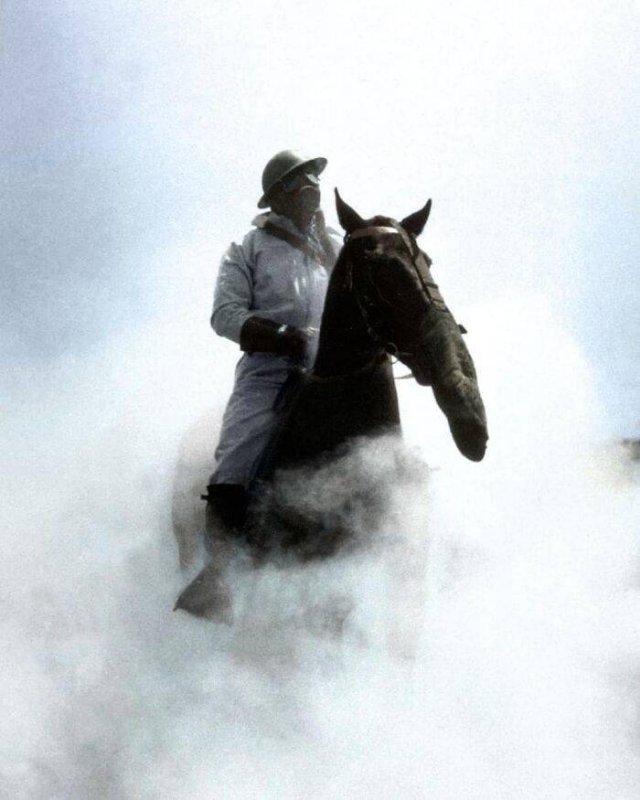 "A Heinkel He 111 crashing directly into the sea, date and place unknown. This He 111 is only one of thousands that wrecked during World War Two, and that currently lie beneath the silence of the seas. Only on the little island of Malta, it's reckoned to be 800 wrecked planes, a third part of the 2700 planes that participated along the Allies and the Axis in the bombing of Malta."
23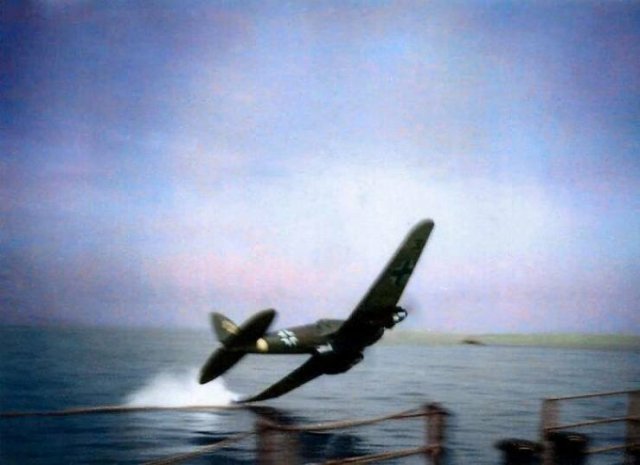 "American troops on board a landing craft heading for the beaches at Oran in Algeria during Operation Torch, November 1942. Today I was reading a Victor Hugo's poem which made me think why couldn't I do something rather original: composing a poem while colorizing a picture, evoking the picture in words. I'm deeply sorry if this seems irreverent, but here it goes.
The bitter weaving holds the sound
of the darkest scream beneath the bank.
The sewed badge in the shoulder dies
with the moans of white, red and black.
As the ship approaches the dying shore,
Its breath embosoms the crimson sand.
And, as the filth of an unborn child,
the men jump into a shore of wrath.
The helmets hold the hope of most,
the grenades, the hands of twenty more,
the uniforms turn into a deeper moan
and the brave, gloomy men pray and cry
without even reaching the rage's coast.
They shout the word of a dratted god,
they confess their duties to the ghost
of a flowing glory; today may be gone.
And the water embraces them all,
with the sorrow of a widow's cough,
and it spits them all into the wall
of blood, darter, and expired goals.
Now, the fourteenth weave tries to bend
the moral of the mysterious men
who perished in the glazed arms
of a far, pitiful, unknown land."
24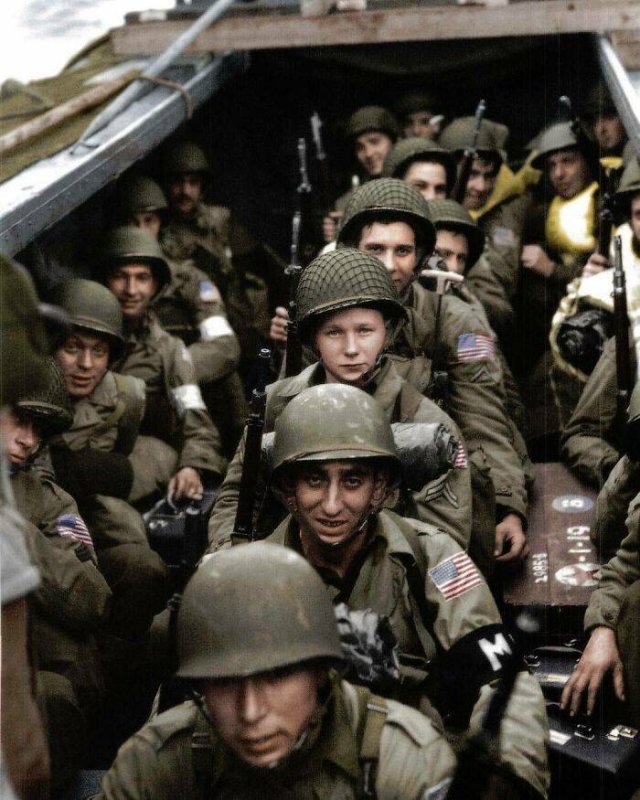 "Afrika Korps, shortened DAK, soldier sitting on two M24 Stielhandgranates in the North African theatre, 1942. Although this picture seems pretty dangerous, the chance that the grenades denotated was very difficult and even those could be neutralized grenades. I've just realized that I have hardly even made DAK posts, so I am going to explain a little bit what and how it worked. The Deutsches Afrikakorps was -and this is something people ignore in many occasions- an expeditionary force, not any kind of formation as a division or a battalion, mainly made out of motorized divisions, created in 1941 and handed directly by Adolf Hitler to Erwin Rommel, both having very close relations. The first intention of the force -another ignored fact- was not to conquer or to expand Germany's colonial control, but to support the Italian fascist forces trying to reconquer Libya, which had had serious trouble. After outstanding military victories, and after the brave yet disastrous fights of El Alamein, the DAK was dissolved on 13 May 1943."
25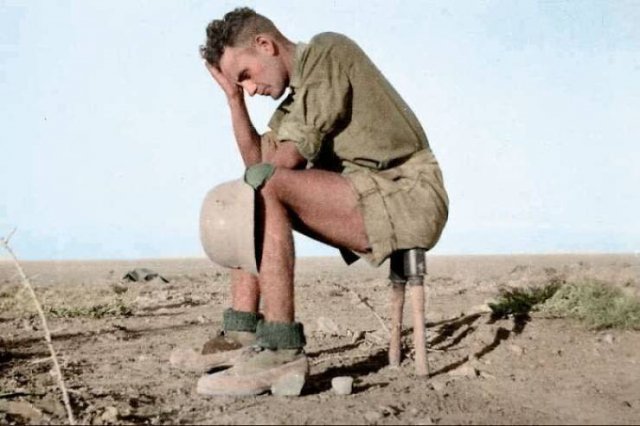 "An exhausted American medic returning from the front during the Battle of the Bulge. Combat or Field medics in WW2 were military personnel prepared in a medical basic training, responsible for providing first aid and frontline trauma care on the battlefield. However, they could assist to other units even preparing patients for operations, making beds, or serving as cooks. Geneva Convention completely prohibits medics from using weapons. Medics could use a weapon to protect a casualty, but not themselves. Quoting Stephen Ambrose, "It was the universal opinion of the frontline infantry that the medics were the bravest of all"."
26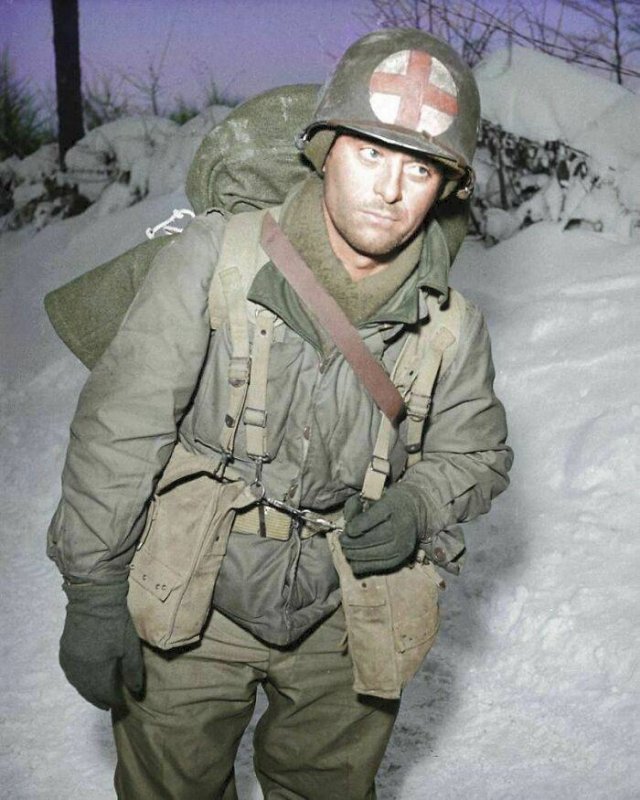 "Two women and what seems to be an Assault Guard during the Siege of the Alcázar, in Toledo, during Spanish Civil War. The role of women during the Spanish Civil War was very different between sides. During the years of the 2nd Republic (1931-1939), women started to gain freedom, strictly censored by the dictatorship of Primo de Rivera (1923-1930), and in 1931 women's right to vote was approved. During the war, in the Republican side, women reached the biggest ladder of liberties, and eventually saw themselves standing in the battlefield among men. On the other hand, in the Nationalist side, women were strictly prohibited from bearing arms, and their task was relieved to nursing. Later, during Franco's dictatorship (1939-1975), the so called government made up a plan where woman where supposed to fulfil the role of wife, mother and housewife, with single-sex school policy. The women had to wear long and little scandalous clothes, with a censorship present in the media and especially the cinema, stepping 40 years back. Pilar Primo de Rivera, member of the Falange, said once: "Let's be nice and funny little ants". 1936"
27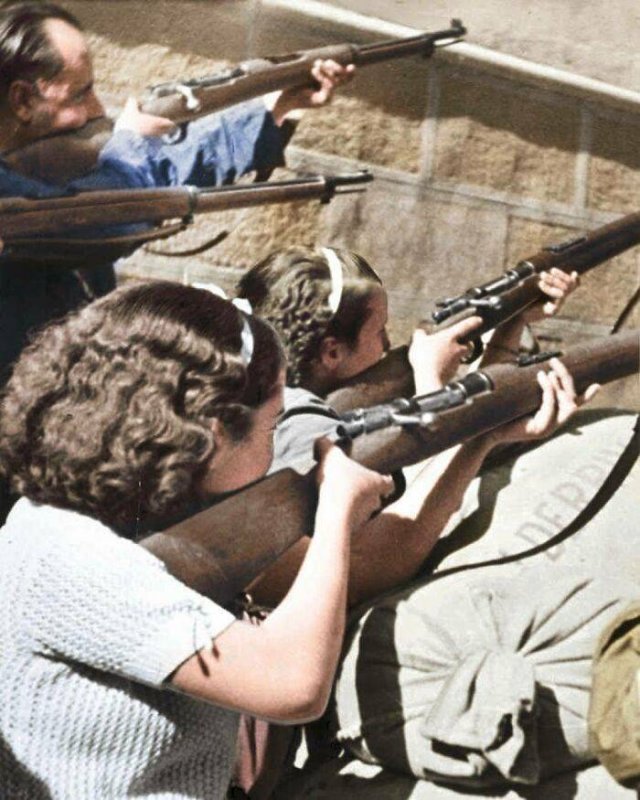 "An unknown American soldier in Summer Service Uniform mocking Hitler's moustache with a hair comb. Depicted in his uniform, a Combat Infantryman Badge, a Good Conduct Medal and an unknown medal. The Good Conduct Medal is one of the oldest military awards in the United States Armed Forces. Although the U.S. Navy's variant of the Good Conduct Medal was established in 1869, the Army version wasn't scheduled until 1941, and the Air Force on, until 1963. The medal is awarded to any active-duty enlisted member of the United States military who completes three consecutive years of "honorable and faithful service, which means not having any non-judicial punishment, disciplinary infractions, or court martial offenses. During wartime, the Good Conduct Medal may be awarded for one year of faithful service, or even awarded posthumously."
28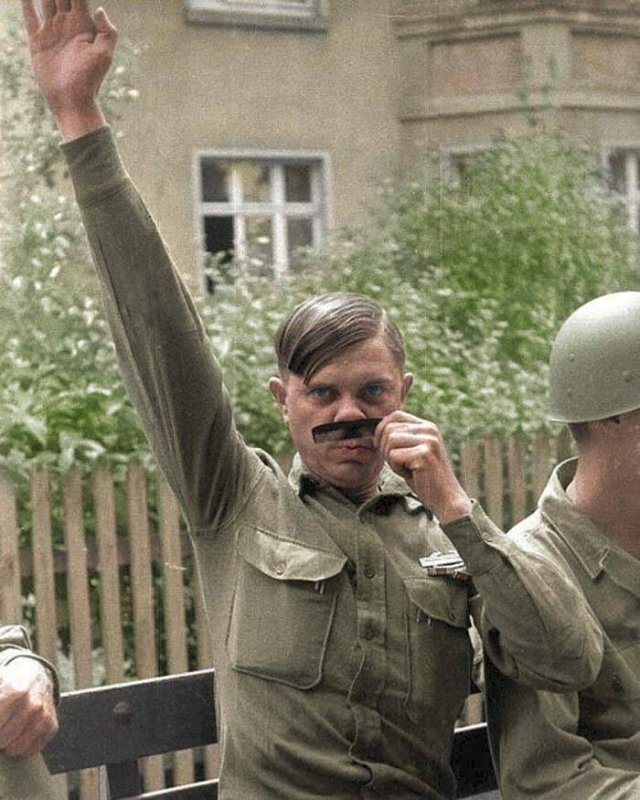 Source