Stranger Times: Controversial Weather Patterns in January 2018
Some people say climate change is real. Others think it's nothing but a hoax, created by the media to... who knows, perhaps to give people something other than the Soviets and the A-bomb to fear. Whichever the case, the fact remains: the weather today is as unpredictable as a slot machine at
https://www.alljackpotscasino.com/
. The best way to show how strange our weather has become in the last couple of years is to simply take a look at the weather reports from different parts of the world. Let's see some of them from January 2018.
Florida
This January, the Sunshine State has seen snow for the first time in almost three decades. A rare winter storm has hit the southeast of the United States at the beginning of January 2018, and not just a few flakes falling from the sky but 2 to 3 inches of the white stuff gathering on roofs and cars in many areas of the state. The Tallahassee weather office has measured .1 inches of the white flaky stuff on its roof for the first time since 1989.
It's snowing in Tallahassee! As exciting as this is, please use extreme caution if you are driving & don't expose yourself to the cold for too long without proper gear. #SunshineState #SnowDay #WinterIsHere pic.twitter.com/QVnnCTWQ5E

— Tallahassee Police (@TallyPD) January 3, 2018
The recent cold spell has caused iguanas to drop from the trees near-frozen like ripe fruits.
... and beyond
Actually, the whole East Coast is covered in snow at the beginning of 2018.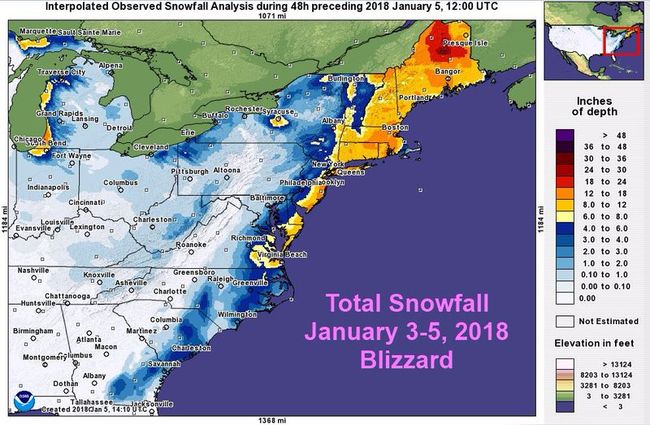 Boston's streets are covered in icy stormwaters. Twenty thousand people lost power in Massachusetts due to the snow. Half a foot of snow has fallen in certain places in New York. Virginia Beach saw blizzard conditions. Freezing rain and inches of snow have fallen in Charleston, South Carolina, and Savannah, Georgia. All this due to an unusually strong "bomb cyclone" that has formed off the East Coast of the United States.
Meanwhile in Central Europe...
In the Western part of Romania, people have shed a layer of clothes in the first week of January thanks to the spring-like weather. Here, the snowdrops are blooming and violets are still in bloom - they started blooming around Christmas last year and never stopped. And mosquitoes that usually die in the winter are now flying freely in the wild.
For the second week of January, meteorologists predict temperatures up to 55 degrees F (12-13 degrees C) for the remaining days, with the weather returning to normal (sub-zero C) not sooner than the middle of the month. The area that's usually covered in snow around this time of the year barely even seen rains.
Stranger times, it seems, are coming, with stranger weather hitting us from all sides.