4 of the Records Held by Cristiano Ronaldo That Will be Very Hard to Break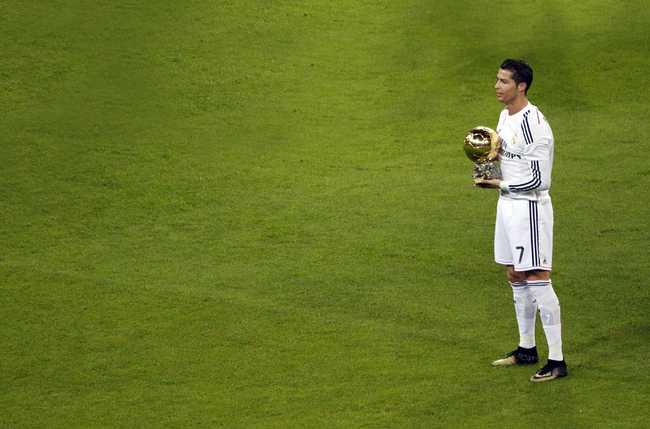 No matter if we're speaking about international or club appearances, Cristiano Ronaldo seems to be a record-breaking machine that sets and breaks footballing all-time-highs on a weekly basis. Reaching the age when most professional football players are thinking about retiring, Ronaldo still goes strong and performs at elite level. Going through all his records would definitely take more time than you are willing to spend reading about it and that's why we picked 4 of the most-unbelievable records he owns.
Winning All Individual and Team Honors with Two Different Clubs
During his astonishing career, Cristiano Ronaldo managed to win the Ballon D'or, Golden Boot, World Player of the Year, Champions League, domestic cup, domestic league, World Club Championship and the domestic Super Cup with two different clubs.
In comparison, Lionel Messi managed to win these distinctions but only waring the Barcelona jersey and the only footballer in history to even get close to Ronaldo's performance is Zinedine Zidane. It's extremely difficult achieving all these titles with one club but he did it at Manchester United as well as Real Madrid.
He Scored 300 Goals in La Liga in Only 286 Games
Cristiano Ronaldo is playing at Real Madrid since 2009 and in all these 9 years he has been terrorizing goalkeepers week after week. In his 286th game in the Spanish first league, he managed to gather no less than 300 goals scored. That's an average of 1.05 goals per game, something that was never seen in La Liga or any other championship for that matter. This means that someone else needs to come and play at an even greater level than he did, which is almost unbelievable.
The fact that he is not showing any signs of slowing down is another thing that makes us think this is truly a record he will hold for many years to come. Even though it is not clear whether he will continue with Real Madrid after his summer, the impressive numbers surrounding his career in Spain will always be there.
Scored 50 Goals in 6 Consecutive Seasons in a Top League in Europe
The fact that he gathered a lot of goals in the matches he played for Real Madrid isn't one of the great indicators about his unparalleled consistency. However, there's another record that highlights this consistency even better. The fact that between 2010 and 2016 he managed to score more than 50 goals / season is a record that none other football players in history reached. If you want to get a better idea on how big this achievement is, take a look at the table below and you will understand just how efficient this football player is. It's efficiency could actually be compared with the Return to Player of some games at 24 Pokies online casino that score over 97%.
| | | |
| --- | --- | --- |
| SEASON | APPEARANCES | GOALS |
| 2010 / 2011 | 54 | 53 |
| 2011 / 2012 | 55 | 60 |
| 2012 / 2013 | 55 | 55 |
| 2013 / 2014 | 47 | 51 |
| 2014 / 2015 | 54 | 61 |
| 2015 / 2016 | 48 | 51 |
Scoring More than 10 Goals in 7 Consecutive Champions League Seasons
If you though the toughest competition in club football has escaped this record-breaking machine, you will need to think again. Cristiano Ronaldo currently holds the record for most goals scored in the Champions League overall. However, that's not the record we'll be looking into right now since there's a chance that, with time, someone else will break this record. It's the fact that he managed to score more than 10 goals in 7 consecutive seasons of the Champions League that shocked the entire footballing world. Qualifying Real Madrid time and time again and leading them to their third consecutive UCL title, which by the way is a world record of its own, is just another day at the office for the Portuguese goal-scoring machine.
Leaving aside all rivalry between him and Messi, it's fair to assume that we're lucky to be contemporary with such a legend of football. Only time will tell if Cristiano Ronaldo will continue breaking records in the jersey of another team or if he'll stick with Real Madrid and end his career there.