Girls Who Swing: Navigating the Swinger Lifestyle with Confidence
Category: --- |
10 Oct, 2023 |

Views: 251

|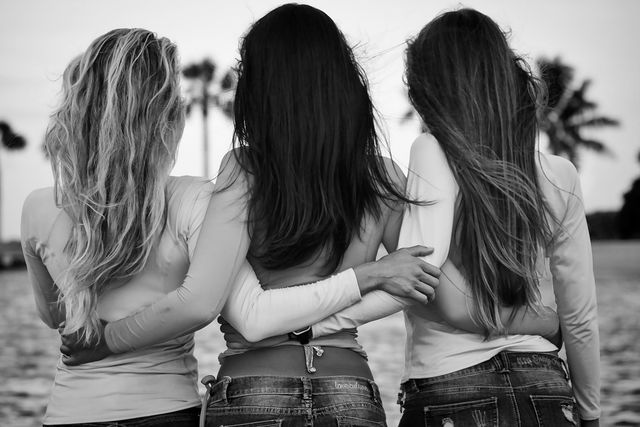 Swinging, a practice often misunderstood and misrepresented, offers adventurous couples an opportunity to explore their sexuality with others who share similar interests. For women, navigating this lifestyle with confidence is crucial for an enjoyable, empowering experience.
This article sheds light on fostering assurance and poise for women actively participating in or considering the swinger lifestyle. Delving deeper, we will explore understanding the lifestyle, building personal confidence, adhering to safe practices, and finding a supportive community.
Understanding Swinging
Swinging involves consensual non-monogamous activities
where individuals or couples engage in sexual experiences with others. While seemingly straightforward, it is laden with nuances demanding careful navigation.
Recognizing that swinging operates on a spectrum, where activities range from watching others to engaging in sexual activities with multiple partners, helps newcomers navigate effectively.
• Communication with Partner: Open, honest dialogue with your partner lays a strong foundation. It is essential to establish boundaries, expectations, and consent. Developing a mutual understanding alleviates anxiety and fosters a secure environment.
• Mutual Respect: Respect for each other's feelings, boundaries, and experiences is foundational to successfully navigate swinging. Mutual respect fosters trust and understanding, necessary for engaging in and enjoying the lifestyle.
• Conflict Resolution: Effective conflict resolution mechanisms are crucial when disagreements or misunderstandings arise. Transparent communication, empathy, and compromise are key in resolving conflicts amicably and maintaining a healthy dynamic.
Building Confidence
Swinging is not exclusively about physical allure. Self-assurance and confidence are magnetic, playing a pivotal role in attracting potential partners and ensuring a gratifying experience. Confidence stems from understanding and embracing your sexuality, being comfortable with your body, and acknowledging your desires without guilt or shame.
This cultivated confidence manifests in your interactions, making you more appealing and allowing you to engage in experiences that are fulfilling and consensual.
• Educate Yourself: Awareness and knowledge of swinging dynamics, etiquette, and common practices empower you to navigate scenarios adeptly. Engage in forums, attend swinger events, or read relevant literature to equip yourself with essential information.
• Practice Consent: Enthusiastic, informed consent is non-negotiable. Being assertive in giving or withholding consent boosts your confidence and ensures you partake only in situations where you feel secure and valued.
• Develop Self-Awareness: Knowing and understanding your desires, boundaries, and emotional triggers are vital. This self-awareness enables you to navigate the swinging lifestyle confidently and authentically.
• Positive Self-Image: Cultivating a positive image of yourself enhances your confidence and appeal to others. Accepting and celebrating your body, irrespective of societal standards, contributes to a more enjoyable and fulfilling experience.
Safe Practices
Ensuring safety is paramount. Engaging in practices that safeguard your physical and emotional well-being enhances the swinging experience, making it enjoyable and sustainable. Beyond physical safety, emotional well-being is crucial.
Acknowledge that it's natural to experience jealousy or insecurity, and open communication with your partner is vital in addressing these feelings.
Sexual Health: Prioritize protection against sexually transmitted infections. Consistently using protection, getting regular check-ups, and openly discussing sexual health with partners is imperative.
• Emotional Safety: Engage only in activities that align with your comfort levels and boundaries. If a situation feels uncomfortable, it is your right and responsibility to voice concerns or disengage.
• Understanding Signals: Learning and respecting the commonly used signals and codes in the swinger community is essential for smooth interactions. Being knowledgeable about these nuances aids in avoiding misunderstandings and enhancing your safety.
• Discreetness: Practice discretion and respect others' privacy. Being discreet not only protects your privacy but also builds trust within the community, creating a safe space for all involved.
Finding Community
Building a supportive network
of like-minded individuals provides a safety net, invaluable advice, and a sense of belonging.
A robust community not only facilitates finding potential partners but also offers guidance and shared experiences. In these communities, shared norms and values foster an environment where everyone respects each other's boundaries and consent, making it easier for new participants to integrate and find their footing.
• Join Online Forums: Online platforms and forums dedicated to swinging offer a treasure trove of information, advice, and support from experienced individuals in the lifestyle.
• Attend Events: Swinging events and clubs provide a secure, inclusive space for new and experienced swingers alike. Attending these events allows for networking, learning, and engaging in the lifestyle in a controlled, respectful environment.
• Mentorship: Seek mentorship from experienced individuals or couples in the lifestyle. Their insights, guidance, and support can be invaluable in navigating challenges and maximizing your enjoyment.
• Build Trust: Establishing trust within the community is crucial. Engage with others openly, honestly, and respectfully to build strong, trusting relationships that enhance your swinging experience and provide support when needed.
For those looking to expand their network and find reliable platforms to connect with others in the swinger community,
consider reading this insightful guide by Happy Mag TV
about the best swinger sites and apps. This guide will provide you with valuable information to select platforms that best suit your needs and preferences.
Conclusion
Navigating the swinger lifestyle as a woman demands confidence, knowledge, and a strong support network.
Engaging in open communication, practicing consent, ensuring safety, and actively participating in the community are cornerstones for a positive, empowering swinging experience.
With careful consideration and adherence to these principles, women can explore and enjoy the swinger lifestyle with assurance and gusto. Embrace this journey with an open mind and a steadfast commitment to your boundaries and desires.